teamecho administrators can manage and actively shape the company settings. They can create new teams, start and stop surveys, etc. Therefore, we recommend appointing at least two administrators.
Initially, the first administrator of your company account is always the person who registered your company in the teamecho web app. Under "My company" --> "Administrator accounts" you can appoint additional administrators at any time. Just select the button "Add administrator account".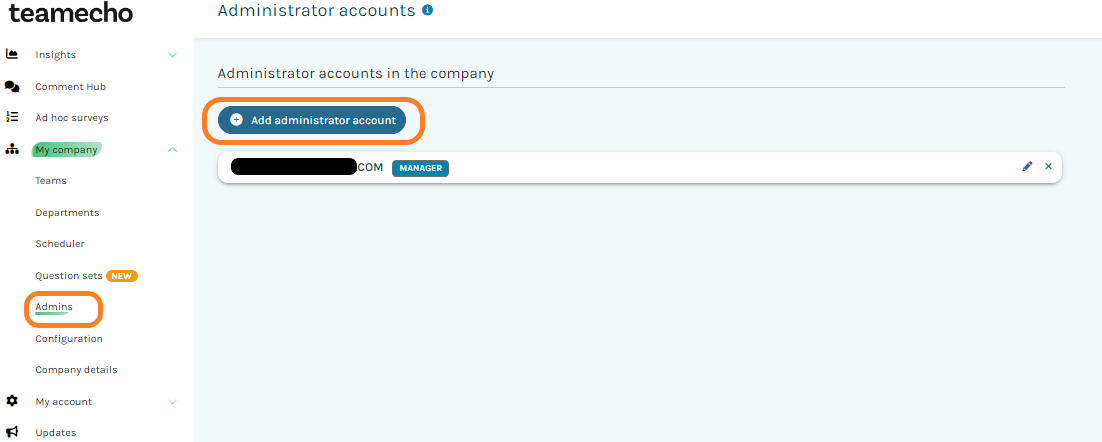 What tasks do administrators perform?
The administrators of your company account take care of selecting the optimal settings (such as visibility settings) and make sure that all employees are assigned to the right teams. They create departments to ensure the correct representation of your company structure.
In addition, administrators define in the team settings which questionnaires are played out at which intervals and can start and stop surveys at any time.
Two different types of administrator accounts
To facilitate your daily work with teamecho, we recommend that you appoint at least two administrators who can manage your company account. You can choose between two different types of administrator accounts:
Administrator accounts with manager function
(you need at least one of these accounts per company)
Administrator accounts without manager function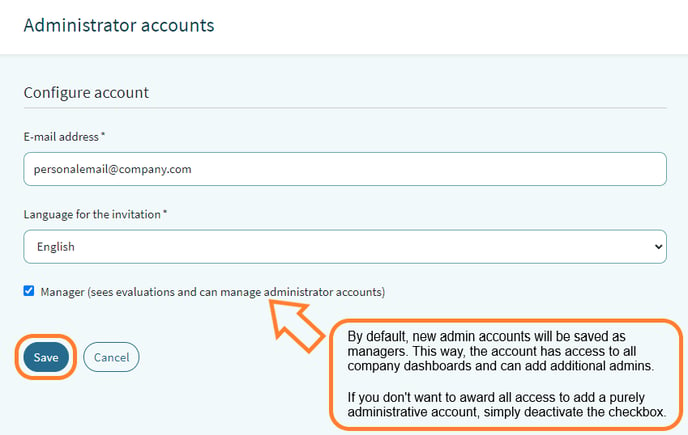 Administrators who are marked as "Manager" have all rights comparable to "super users". They can e.g. change visibility settings and add new administrator accounts.
Administrators without manager designation can perform administrative tasks, such as creating new teams and launching surveys. However, they cannot manage visibility settings or appoint new administrators.
Note that if you create an administrator without a manager designation, this user will only be able to see the results of his/her own team, but not those of the company or other teams in which he/she is not deposited.