Stay up-to-date! This is the place to get exciting news related to our tool.
---
teamecho "question sets"
08.03.2023 - new in teamecho
Discover your possibilities 🤩 a new page will soon be available to you under the menu item "my company". Under "suestion sets" you can see at a glance which question sets are currently running in your company (green), which ones you could start at any time (purple) and which topics we have prepared for you (gray).
If you would like to learn more about our teamecho focus question sets click here.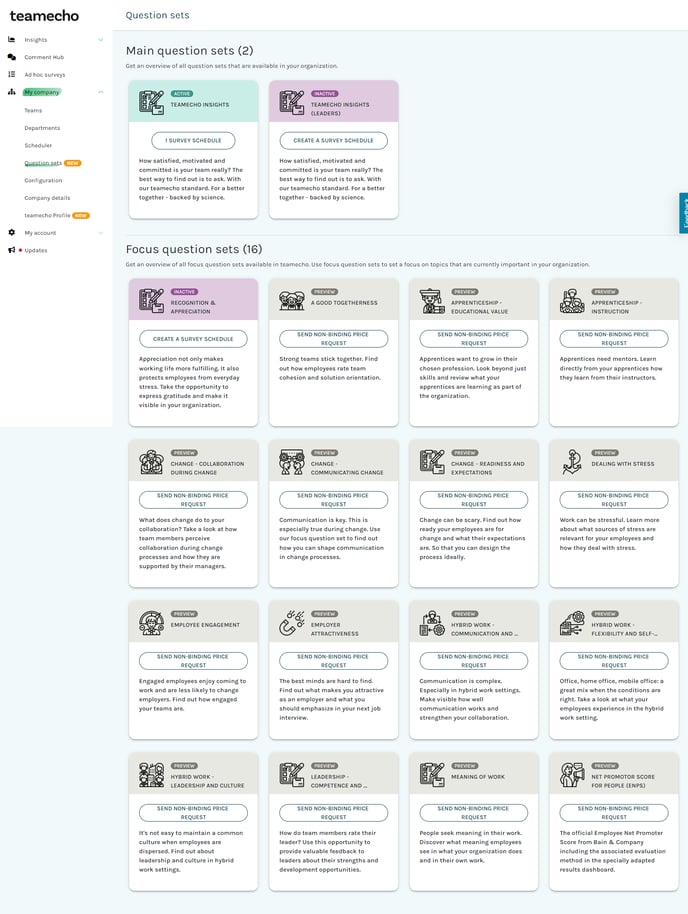 ---
teamecho Insights: Number of questions per survey
23.02.2023 - new in teamecho
You probably noticed the survey planner a while ago, where you can easily manage your surveys for your teams.
In the planner you will now find another new feature that allows you to change the number of questions per survey.

Depending on the interval, you can adjust the number of questions as follows:

weekly: 1-5 questions (recommendation 3)
bi-weekly: 2-8 questions (recommendation 5)
four-weekly: 6-14 questions (recommendation 10)
___________________________________

Additional available intervals for the teamecho Insights:
six-weekly: 8-20 questions (recommendation 14)
eight-weekly: 12-22 questions (recommendation 18)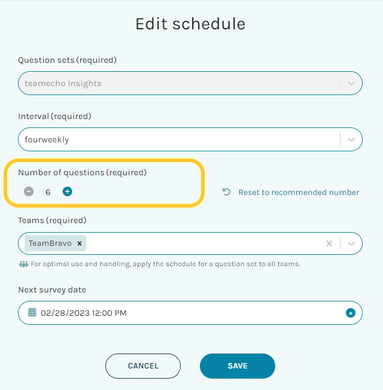 ---
Smells like change spirit
03.10.2022 - New in teamecho
teamecho already stands for a better togetherness since 2015.

A better togetherness thanks to feedback, open communication and the will to change things. Our vision is that everyone likes to go to work. In times of War of Talents, VUCA and a pandemic, this is more challenging than ever. Of course, you have already recognized that more is needed than fruit baskets and a few kind words.

Our mood barometer supports you in shaping the changes in the world of work in a positive way. Together with you, we want to continue on this path - and with our new branding, we want to be even friendlier, even more charming and even bolder.


What changes for you and your company
Our homepage and the teamecho platform itself will shine in new splendor - as will all messages that you and the users of your company receive. All known features will of course remain as you know and appreciate them.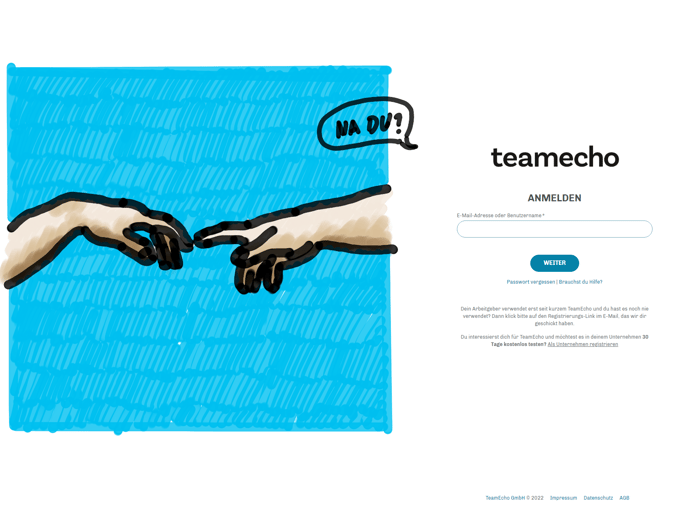 We are looking forward to more successful feedback years with you.
PS: If you have an idea how we can implement our vision even faster, we are always happy to receive your feature request :-)