The teamecho standard
"For a better together"
: Growing together and creating a working environment that inspires - that's what
teamecho
is all about. However, new challenges in the working world also require adjustments in our tool. That's why we recommend our scientifically based question set
teamecho Insights
.
What's the difference to the previous question sets?
The question set is even better adapted to the needs of managers so that they can unleash the full potential of their teams.
With its 10 categories, teamecho Insights provides you with an even more comprehensive picture of all organizational culture characteristics that are important for the success of your teams.
The wording of the questions is even simpler and shorter.
With teamecho Insights (leaders), there is also a separate set of questions for leadership teams that focuses on leadership-specific challenges and growth opportunities.
Overview of the categories

For the curious among you, who would like to have more information about the categories, we link the teamecho Insights Onepager here.
Backed by science - Scientificity is of course always very close to our hearts. We are happy to provide our validation paper (only available in German) to anyone who would like to take a closer look here.
And now to the practice
We'll be happy to show you how you can switch to teamecho Insights in just a few steps:
Please note that when you switch to a new question set, your trend history will restart (= separate dashboard view for new question set).

Results from previous question sets will of course remain!
First stop your current survey plan (e.g. question set mood barometer) in the menu tab 'Scheduler'. If you want, you can delete the old survey plan after stopping it. The results will still be visible. You can find them as usual either directly in the dashboard or via the link to the dashboard in the respective team on the team page.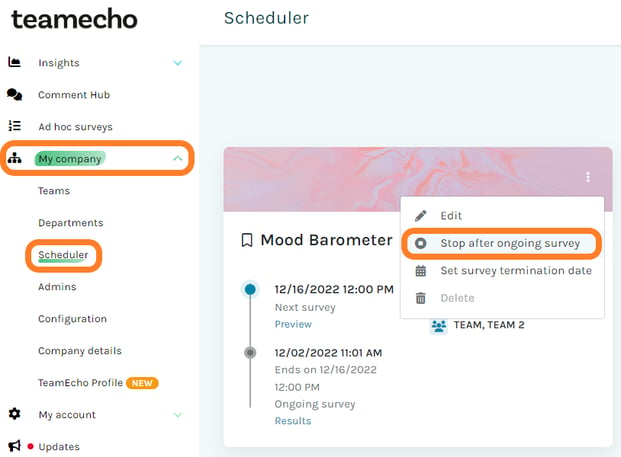 Now create a new survey plan and specify the following: question set, interval, number of questions, teams, date of next survey.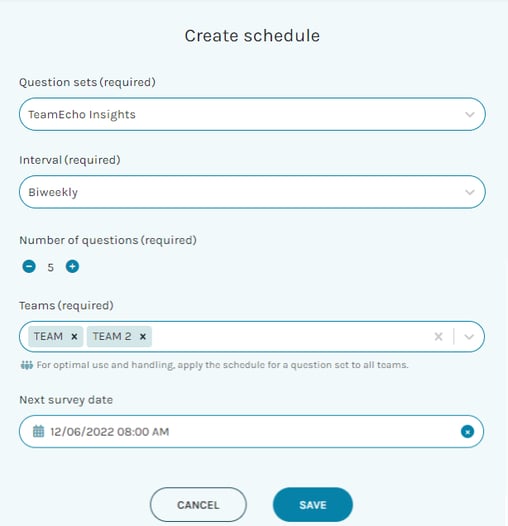 Click on 'save' and you are ready to go. This is how it should look: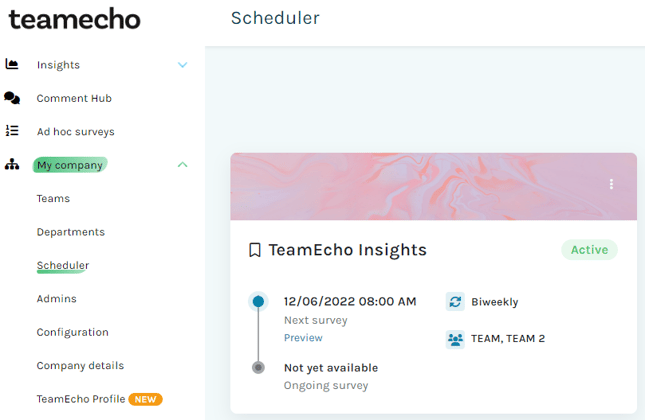 You create the survey plan for the question set teamecho Insights (leaders) in the same way, but only add your leadership teams there.
To ensure that teamecho Insights is always preselected as the standard question set on the dashboard in future, set this as the 'preselected question set for new surveys' in the 'Configuration' menu tab 'My company'.