Appreciation motivates and inspires, especially during challenging times. In the midst of a stressful work day, words of appreciation often come up short - but not with TeamEcho!
In order to focus more on positives, TeamEcho offers the opportunity to increase appreciation within the organization. Twice a year, you can set an appreciation focus in the surveys, which we announce well in advance via our updates. Specifically, the comment section changes twice a year to look like this:

No additional steps are necessary for you to participate in the appreciation rounds. If you don't want to partake in the appreciation rounds, you can terminate your organization's participation at any time as an administrator - simply select "Increase appreciation in the company" under "Company settings" and remove the corresponding check mark and save.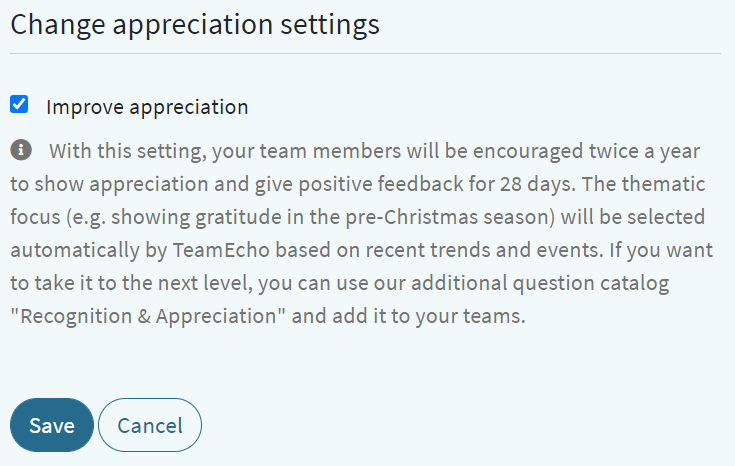 How are team members made aware of an appreciation focus?
At the beginning of an appreciation focus, all team members are prompted by a pop-up directly in TeamEcho to focus on aspects they perceive to be positive: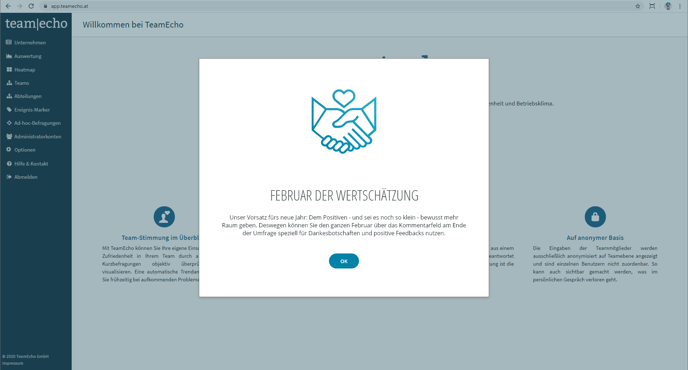 Focus question set: Recognition & Appreciation
For additional feedback on the topic of appreciation, our research team has developed a focus question set. As a TeamEcho user, the question set is available free of charge in German ("Anerkennung & Wertschätzung") and English ("Recognition & Appreciation").

Details about our focus question set can be found in our info sheet in German and English.

Would you like to say thank you more often in your teams and sharpen the focus on recognition? If so, you can simply select the new focus questionnaire as an additional questionnaire in the desired teams and play it out in the usual intervals weekly, bi-weekly or monthly. Here you can find out how to start a new survey or questionnaire.

If you have any questions, our Customer Happiness Team is always happy to help!