TeamEcho thrives on cooperation and feedback. This requires a certain degree of transparency. The individual visibility settings of your company can be selected appropriately at any time.
One thing is important above all: The degree of transparency should fit your company and the communication culture of your teams as best as possible. As an administrator, you can personalize the visibility settings at any time in the menu item "Company settings":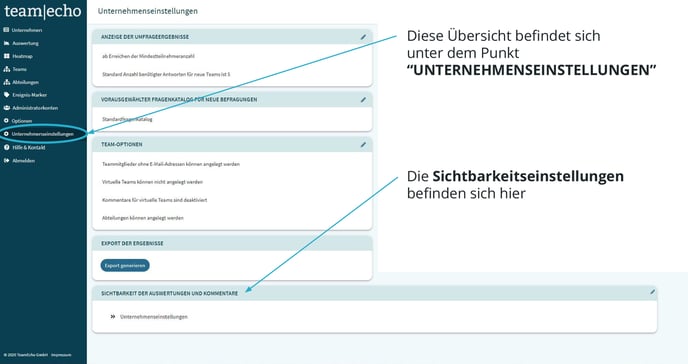 For each TeamEcho role, you can define which reports and dashboards are displayed. You can define individual settings for the following roles:
Team member
Team leader
Department leader
Administrator
Default settings
By default, each team member and team leader sees the evaluation and comments of their own team, the team leader also has editing rights for their own team. As a department manager you can see your own team, all teams in your own department and an overview of your own department. As an administrator you have access to all dashboards and overviews of the company and can also edit all areas.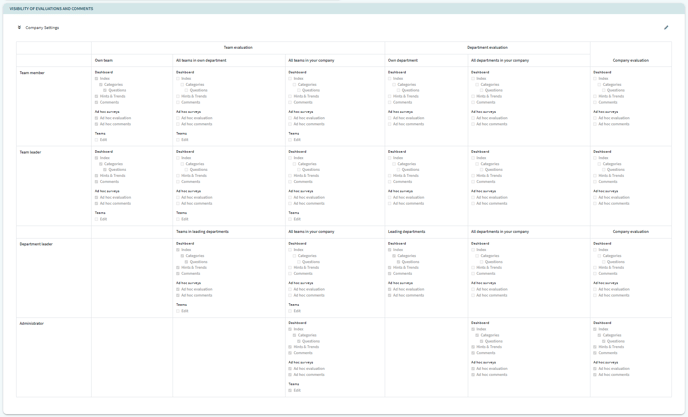 Tip: It is worthwhile to unlock at least the overall index of your own team for the team members. This basic transparency is necessary to be able to use TeamEcho in a solution-oriented manner in the joint exchange.
Are you not sure which visibility settings suit you best?
At the beginning it is often helpful to discuss the options in a larger team, e.g. with all team leaders or managers - this way you can discuss the pros and cons together and you can get everyone "on board".
If you have no previous experience with feedback tools, one option is to start slowly and only gradually increase the transparency - the more practiced you become in dealing with feedback, the more transparent the visibility settings usually become.
As a best practice start for "newbies", for example, the option of not immediately releasing comments for the entire team is suitable, but only for all team leaders. Important: Communicate your settings openly and explain your reasons! If you are unsure, a slow start will give you the confidence to learn feedback loops together - with training wheels and water wings, so to speak. After the introductory phase, you could then unlock comments for all team members, because this is how participatory feedback loops can then emerge in the teams.
Individualize visibility settings
All company areas can be activated or deactivated separately by administrators. In the respective areas you can additionally choose between
Index

(= the mood as an index of all quantitative survey results),

Info box (= information on current evaluation trends and notes on special features of the evaluation),
Comments (= the additional responses to questions within the questionnaire or directly in the dashboard) and
Ad-hoc evaluation.
In the quantitative area, you can also distinguish whether you want to use the detailed evaluations of the
in addition to the index.
The following screenshots will help you locate the respective areas:
Index:

Infobox: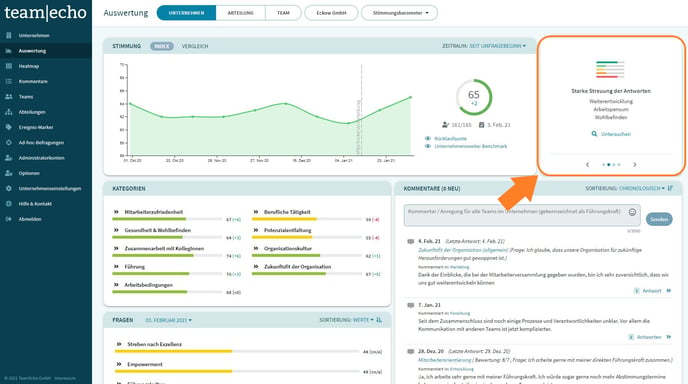 Categories: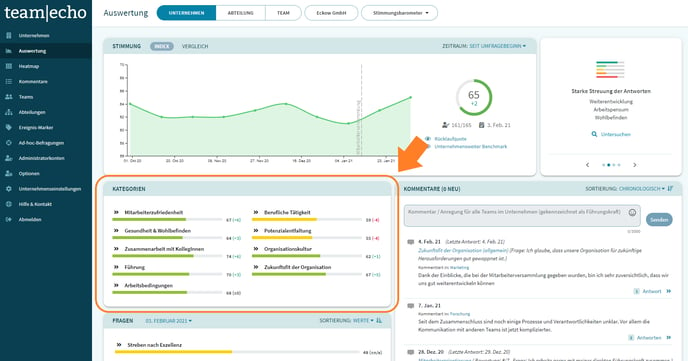 Questions: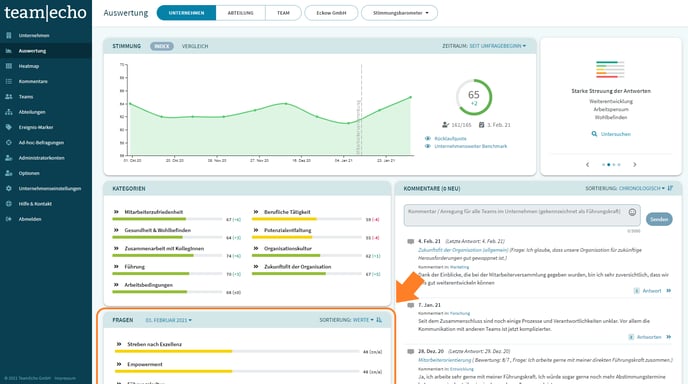 Comments: